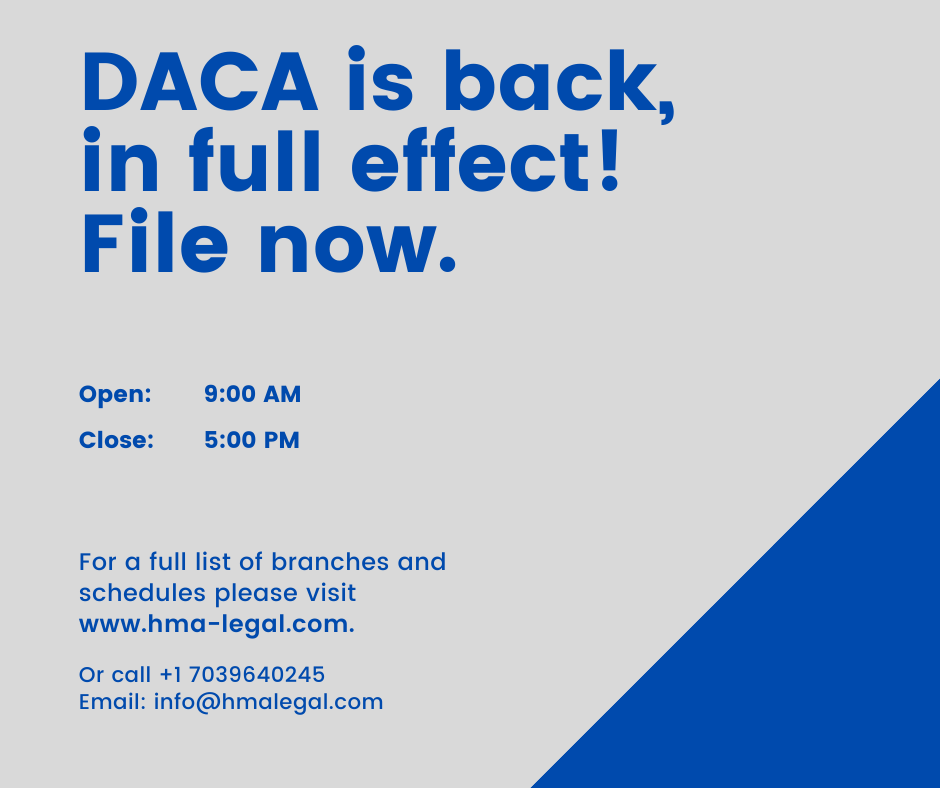 What is DACA?
Deferred Action for Childhood Arrivals (DACA) is a U.S. immigration policy for certain people who came to the U.S. as children
They also need to meet several guidelines to request consideration of deferred action for a period of two years which is subject to renewal.
They are also eligible for work authorization.
Deferred action is a use of prosecutorial discretion to stop removal action against people for a certain period of time.
The Trump administration tried to revoke DACA, deferred action for childhood arrivals (the temporary program to allow Dreamers to file for a work permit and reprieve from deportation) in Sept 2017. Litigation slowed their roll, so since then, only DACA renewals have been allowed to be processed.
Because of this, first time DACA filers were out of luck, as well as those seeking advance parole (travel permission) who already were under the policy. Until now.
Starting Monday, 12/7 USCIS will have to accept DACA as originally started back in 2012. All of the Trump administration's efforts to revoke this policy have, as of today, been nullified due to a brand-new court order that came down on Friday, December 4, 2020.
Who can benefit?
Two main groups:
1.First-time filers, including kids who have "aged in" to DACA. One generally has to be 15 years old to file DACA unless one was in removal proceedings. So, this group includes children who didn't turn 15 until after September 2017, but also anyone who never filed between 2012 and 2017.
2. Any current DACA holder who wants to travel outside the US, re-enter, and be lawfully paroled into the US. This can create eligibility for a green card for some, and a path toward citizenship.
I've said this many times: the only thing illegal about DACA was the way this administration tried to revoke it.
They lost. It's time to file.
And keep pushing for sensible reform – DACA is still a band-aid.
It has been a high honor and privilege to represent Dreamers since we filed our first DACA cases 8 years ago. Many of my clients have now obtained permanent residence and are on their way to citizenship.
The door just opened again, and we hope and pray that it's a sign of brighter days ahead. Take the first step by calling us, or filling our contact form! Get in touch with our attorneys and discuss your legal hurdles today. If there's a way, we'll find it.