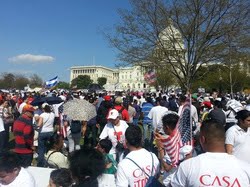 Yesterday we summarized the outline of the new "Border Security, Economic Opportunity, and Immigration Modernization Act of 2013″ – the Senate's comprehensive immigration reform bill.  
At 2 a.m. today, the Senate released the full text of the bill – 844 pages.  We will immediately start analyzing it and will be available to answer your questions via the form on the right.
You can also read the Washington Post article, the New York Times editorial, and the Politico article on the bill introduction to find out more.