About 900,000 Spanish citizens travel to the United States each year.
This is favored for one great reason. Spanish citizens are in the ESTA program, so there is no American visa for Spanish citizens. In other words, Spanish citizens do not need a tourist visa to enter the US.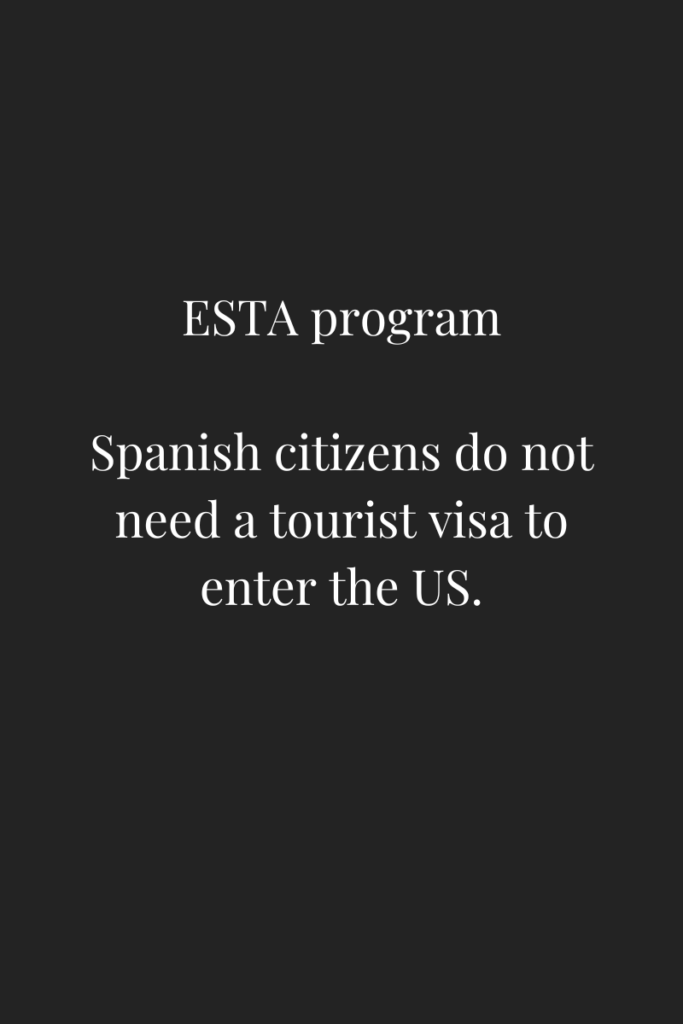 Yet, this does not mean that you can enter the US just like Peter into his home, as they say in Spain. Yes, it is simpler than if you had a visa, but certain conditions apply.
What do you need to know?
First, what should you do to take advantage of the non-existence of the American visa for Spanish citizens? Have a valid Spanish passport. You cannot use a provisional passport. You always need a passport with a digital chip normally issued in Spain.
Also, even if you do not need a visa, you do need to obtain travel authorization to the US through ESTA. You must do this through https://esta.cbp.dhs.gov.
The authorization is immediate and is valid for two years or until your current passport expires. This will allow you to travel to the US and stay there freely for 90 days. The DHS recommends that you apply at least 72 hours before your trip.
As of January 2009, airlines must verify that you have applied for ESTA. If not, you will not be allowed to fly.
Also, as of 2010, you must pay two fees to obtain authorization:
Processing Fee: All applicants must pay a $4 fee for an electronic travel authorization.
Authorization fee: If your application is approved, you will need to pay $10 to complete your application.
It is also important to keep the documents even when traveling within the U.S.
What should I know about my passport?
All travelers, including minors, must have a passport with biometrics to travel to the U.S. under the visa waiver program.
Thus, to be exempted from the American visa for Spanish citizens, you cannot use a provisional passport. Why? Because it does not include your biometric data.
Plus, even if you do not need a visa, the DHS will require you to have your photo and fingerprints taken when entering the US. You must also register your departure.
What if I'm on a travel restriction list?
Spain is a country that has received refugees. Thus, you find Spanish citizens with dual passport from a Middle Eastern country. Sadly, Spanish citizens who also have a passport from the following cannot travel with ESTA:
Iran
Iraq
Yemen
Sudan
Syria
Libya
Somalia
In fact, any Spaniard who has traveled to these countries cannot enter the US with an ESTA. Thus, they must apply for a visa. This exempts military and government officials on official travel.
Any traveler in the above category should inquire at the nearest American Embassy. Plus, they should bring proof with them when traveling.
If your ESTA is denied, you must apply for an American visa. This is the only circumstance in which an American visa for Spanish citizens applies.
What about COVID-19?
Any foreign citizen who has been in the Schengen area for 14 days before entry into the US will be denied entry. At this time, it is not known when this restriction will be lifted.
So, to enter the US, you would have to spend 14 days in a country from which you can freely enter the US. For example, you could travel to Mexico, which has no travel restrictions to Spain. Then, spend 14 days in that country, and travel by plane to the United States.
For more information about our services, fill out our contact form.