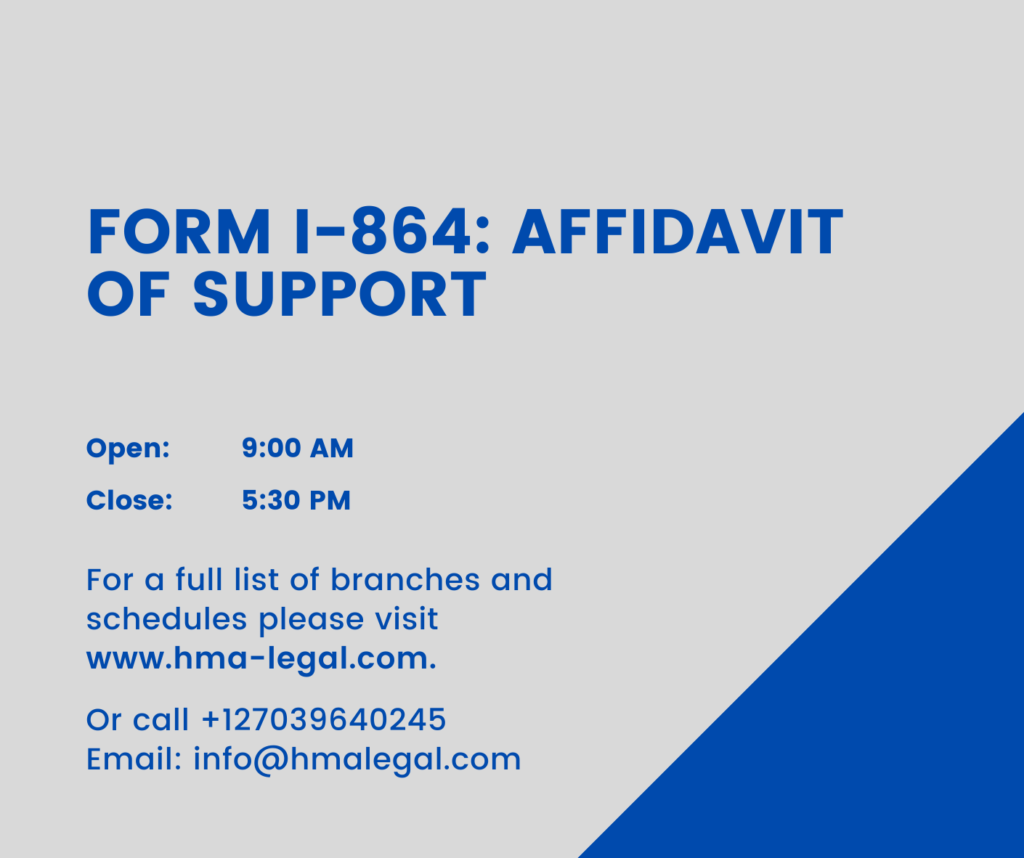 Nobody wishes to host a liability. Not you, and definitely not the U.S. government. So, you need to file the USCIS Form I-864 to prove that you're financially capable to cater to an intending immigrant.
This is to ensure that the intending immigrant does not become a public charge or liability that the U.S. government will have to take care of.
It is also crucial to file Form I-864 first before other forms like the work permit or permanent residence forms.
What Is Form I-864?
Form I-864 is the Affidavit of Support document. It requires you to prove that your financial capacity is good enough to support the immigrant you're sponsoring. Also, to qualify for certain immigration benefits, it is mandatory to file this form.
The promise you, the sponsor, are making is that if the immigrant you're sponsoring takes benefits they're not entitled to, you'll have to pay it back to the government. And you agree to maintain the immigrant at a certain threshold.
The immigrant could decide to stop working and actually take you to court for the support they are owed. (This rarely, if ever happens, but it's important to understand nonetheless.) And the obligation does not end until the immigrant has paid a certain amount into the social security system (the exact amount is 40 qualifying quarters of work), dies, or becomes a US citizen.
Note: if you are sponsoring your spouse, even divorce does not extinguish the I-864 obligations!
Who Should File Form I-864?
Keep in mind that Form I-864 is not compulsory for everyone. It is only accessible to select categories of persons. Hence, you must fit in the following descriptions:
All immediate relatives of U.S. citizens. This covers spouses, parents, and unmarried children (below 21 years) of U.S. citizens.
All family-based preference immigrants. It covers the children(married or unmarried), and siblings(at least 21 years old) of U.S. citizens. It also covers the spouses and unmarried children of lawful permanent residents.
Employment-based preference immigrants. It applies to cases where the beneficiary has a significant ownership interest in the petitioning entity/company. Also, "significant" ownership interest here refers to having 5%(or more) ownership interest in the petitioning entity.
Simple Instructions For Form I-864
To begin processing your application, you first need to obtain a copy of the form. Thus, the USCIS official website contains the direct download link for the Form I-864 pdf. Click here to download.
However, if unable to access the forms on USCIS official website, you can put a call through to the USCIS Contact Center at 1-800-375-5283, for a printed copy of the form.
You must answer all questions correctly. Also, should a question not apply to you, you can type or print "N/A" in response.
Fill the form in its entirety in black ink. You can only type or print legibly in black ink.
All signatures must be handwritten to ensure the affidavit is recognized. USCIS will not accept any stamped, or typewritten name in place of a handwritten signature.
The immigration Form I-864 does not require a filing fee. For further information, see www.travel.state.gov on the I-864 processing fees.
All evidence and supporting documentation must be submitted at the time you're filing the form. Unless USCIS requests Original copies, you must only submit their duplicates.
All submitted evidence and supporting documents must be in English language. However, if your submitted documents are in a different language, you must submit a fully translated version of such documents.
These are just simple instructions that will aid you in your application process. However, you will find the full Form I-864 instructions here.
Cons Of Filling The Form Incorrectly
Failure to file Form I-864 correctly comes with unavoidable penalties. For instance, where you knowingly forge or hide any relevant fact, or submit a fake document alongside your form, it will be rejected, and you will be denied any other immigration benefit. Depending on the gravity of your error, you may be subject to criminal prosecution or be fined a substantial amount of money.
However, where the error in your application is made by the USCIS, such errors will be corrected without any cost to you.
Get It Right The First Time! Contact Us!
To avoid unnecessary delays and errors in filing Form I-864, you must get it right on the first try. That's where we at the HMA Law Firm come in.
With a proven track record in accurately filing immigration applications for clients, we can help you with yours. We will handle your application processing and ensure that there are no loose ends.
Yours would be to furnish us with the appropriate information and prepare yourself for successful immigration.
So, schedule a consultation with our experienced immigration attorneys today, and let's get to work on actualizing your American dream!