Form I-90 is the one you need to fill when you must renew or replace your permanent resident card. You can easily file online, or you can choose to file by paper. In this article, we will tell you, in a nutshell, what you should know about Form I-90.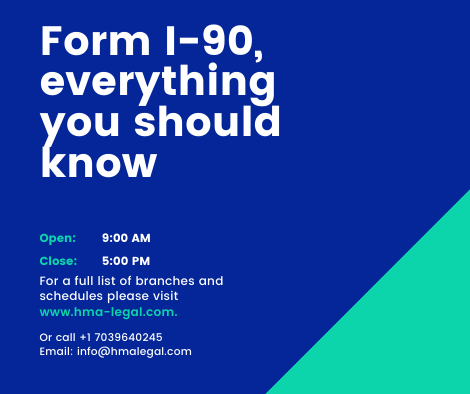 Who should submit a Form I-90?
USCIS Form I-90 should be used to replace or renew your green card. Thus, you should not use it if you are a conditional resident looking to remove that status. This is very important! Many people lose status because they file the wrong form here, confusing 'removal of conditions' with 'renewal of a green card.' If you are a conditional resident (ie, have a 2-year green card) you should use one of the following:
Form I-751: if you are looking to remove conditions on a residency obtained through marriage.
Form I-829: if you are looking to remove conditions on a residency obtained through investment.
Who should use it?
Permanent residents whose 10-year green cards have expired or will expire in the next six months. Note: it doesn't matter how long ago the green card expired: you can and should still file an I-90!
LPRs whose green cards were lost, stolen, or damaged.
Applying for the I-90
You can apply online or on paper.
Online
Sign-in to your USCIS online account (or create one).
Complete your Form I-90
Upload your supporting evidence
Sign electronically
Pay your fees
Submit the form
You can also apply by mail:
Download and fill out a paper Form I-90
Pay by check, money order, or credit card
Gather your supporting evidence
Mail your application
You can mail your application to one of the following:
USPS
USCIS
P.O. Box 21262
Phoenix, AZ 85036
DHL, FedEx, or UPS
USCIS
Attention: I-90
1820 E. Skyharbor, Circle S, Floor 1
Suite 100
Phoenix, AZ 85034
Form I-90 instructions
The form has eight parts. Let's explain each of them:
Part 1, information about you: Here, you will need to write down personal information, such as your name, birth date, etc. Further, you will also have to write your Alien Registration Number, USCIS account number, mailing, and physical address. Lastly, you will need to state your class and date of admission
Part 2, application type: Here, you must select the item that describes if you are an LPR, a commuter resident, or a conditional resident. Yet, if you're a conditional resident, you must file a different form.
Part 3, processing information: You will be asked about where you filed your green card application, where your green card was approved, which port of entry you arrived, and similar.
Part 4, accommodations for individuals with disabilities: You must use this section if you need help to complete this application. For example, if you will arrive in a wheelchair at your biometrics appointment, you can state it here and say the accommodations you may need.
Parts 5-7: Here, you must write the applicant's statement, your contact information, and signature. If an interpreter or attorney helped you, they must state their personal info and sign.
Part 8: This part is for additional information. If you need extra space to answer any of the above, you can use it.
How long will you wait?
It depends. If it's a renewal, it may take between 45 days and a year. However, if it is a replacement, it will surely take over six months. Yet, it varies depending on your location and the USCIS workload. We have seen cases take as long as a year or more.
Form I-90 fee
The current fee is $455. Generally, you must also pay an $85 biometrics fee. Thus, the full cost is $540. But check the website to ensure the biometric fee is applicable! If you send the wrong fee, the case will be rejected.
Naturalization
In many cases, filing an I-90 isn't as good an idea as filing for naturalization to become a US citizen. You should become a citizen if you are able. After all, the filing fee for naturalization is currently $725, less than $200 more than a green card replacement. And if you become a citizen, you'll never have to replace your green card ever again – but that's only one of many benefits you get as a US citizen: a US passport, the ability to petition for more family members, the ability to live inside or outside the US as you please, freedom from deportation, the right to vote, a sense of security.
In our experience, it's almost always worth it to opt for citizenship. Be advised, however, that USCIS takes the position that if you have less than 6 months left on your green card and wish to file for naturalization, you must also renew your green card (even though, once a citizen, you won't need it.) So save yourself the time and money and become a citizen as soon as you are able! We can help you make that decision, as sometimes things like a criminal record, lack of English speaking ability, or the loss of your home country's citizenship (as may happen if you are Indian, Chinese, Japanese, German, and a few other countries) may change the calculus for you.
You can download an I-90 form sample in PDF here. Here at the HMA Law Firm, we can help you go through this process easily – but also advise you on what else you can do to protect the life you've built in the United States.